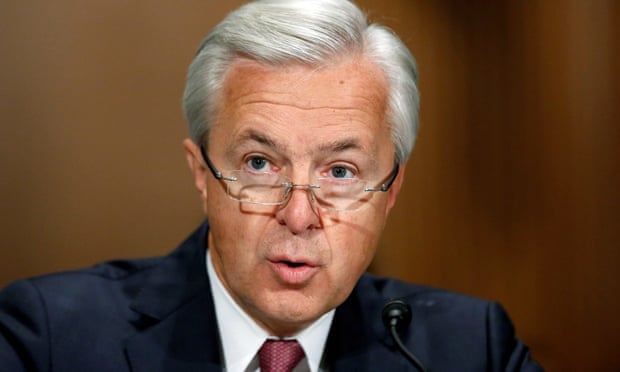 The problems keep on piling up for John Stumpf, the chief executive and chairman of Wells Fargo. Stumpf announced on Wednesday that he is "retiring" from both the bank and the board, effective immediately.
Stump's retirement, which was announced on Wednesday, comes during a tumultuous time for Wells Fargo, amid the ongoing scandal over the bank's sales practices.
"While I have been deeply committed and focused on managing the company through this period, I have decided it is best for the company that I step aside," Stumpf said in a statement.
But this is not your run-of-the-mill CEO retirement, no no. A Wells Fargo spokeswoman confirmed that Stumpf "will not receive any severance payment," which I assume is the financial equivalent of pouring salt into a gaping wound.
Since 2011 the bank fired more than 5,300 employees for opening more than 2m accounts without customers' permission. The former employees opened these unauthorized accounts to meet the sales quotas imposed by the company. In early September, Wells Fargo announced that it had reached a $185m settlement with US regulators for its illegal sales practices.
Prior to announcing his retirement, Stumpf testified before both House and Senate, and was chewed up and spit out by US lawmakers including the lovable Massachusetts senator Elizabeth Warren, who has called on Stumpf to resign and to submit to a criminal investigation.
And with the announcement of his retirement, it is official: Stumpf is having a pretty shitty year. It just goes to show, that you can't win them all, but you can lose them all.