Suzanne Marques, author of "The Cuba Diaries: In Search Of A Lost Nation", was in the White House to interview First Lady Jill Biden about her work on mental health.
Suzanne Marques is a journalist who has been in the White House to interview First Lady Jill Biden. She is known for her age and she has been working on her show "suzanne marques age" since 2003.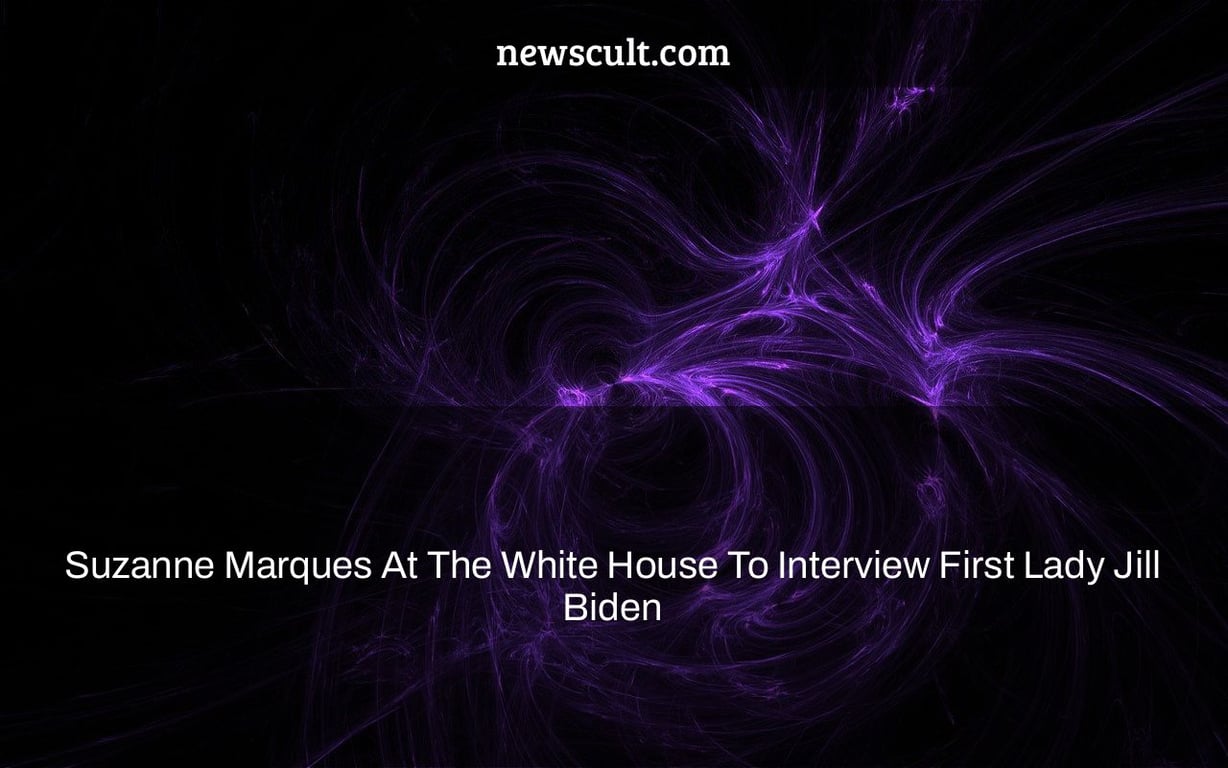 News from CBS2 Suzanne Marques of This Morning is in Washington, D.C., to interview First Lady Jill Biden. Here you may follow along with her adventures.
Suzanne Marques contributed to this article.
(CBSLA) – WASHINGTON (CBSLA) – When you think of the holidays, what comes to mind?
My mother used to wrap items in black garbage bags so we couldn't see what she gave us for Christmas when I was a kid. She'd stow them away in her closet or garage.
The White House's Christmas décor in Washington, D.C. The theme for this year is "Gifts from the Heart." 1st of December, 2023 (Credit: CBSLA/Suzanne Marques)
So many Amazon parcels come at our home these days. Austin seems unconcerned with the boxes stacked in my closet. I'd come home bags from Target and the 99 Cents Store before the epidemic, and if I didn't cover them straight away, he'd see the bright label on a package and it'd be over. He'd whine and point until I handed him the present before he could talk. He couldn't be distracted. His immature mentality didn't realize that anticipating a gift just adds to the excitement and makes it more enjoyable. He already knows I got him something, so just hand it over.
Austin's "huge gift" last year was a police vehicle that he could drive. Is it customary for everyone to give a large gift? It seems like a Christmas custom that my brother Matt and I cooked up to entice my mother to buy us more presents.
"Mom. I understand you just bought me an outfit, but what should I purchase for my major present? "Should we check out the shoes or the handbags?"
When I think back on our brazen behavior, I shudder. But now that I'm a mother, I understand how much pleasure shopping for kids can be. Austin is five years old, and I'm already missing the phases of childhood that have passed him by.
I also like hosting parties at my house. So many memorable dinners, cocktails, and full-fledged theme parties have taken place. This year's Thanksgiving made it seem like the epidemic was far away. We were all vaccinated, so we crammed into every chair at the dining table and the children's table with the doors wide open. My mother prepared a classic Southern Thanksgiving meal. We had turkey, ham, cornbread dressing, green beans from my Grandma Ethel, mashed potatoes, giblet gravy, fresh sweet corn, roasted sweet potatoes with candied nuts, mac and cheese, entire cranberry sauce, and sweet Hawaiian buns at my request. There was apple pie and pumpkin pie. I'm sure I'm forgetting something. Oh, the canned cranberry jelly! We cut it into thin slices.
The White House is where it all happens. (CBSLA's Suzanne Marques)
We performed little games like cracking crackers and donning paper crowns, as well as reading riddles and competing to solve them. We walked around the table, writing down what we were grateful for. Some of us expressed gratitude for our health, families, and friends. Others expressed gratitude for simple pleasures like as listening to music while driving with the windows down. In the cool air, I was strolling and listening to the leaves underfoot.
This is my absolute favorite season. My coworkers will tell you that I once set up my Christmas tree in August, and you've undoubtedly heard me mention it. It happened while I was living in Atlanta. I felt homesick despite living in a high-rise with a great city view. I got through that lonely season by putting up a white plastic tree and spending my free time on Ebay looking for old decorations. I like getting packages in the mail. They were often sent by elderly people from all around the nation, with the boxes addressed in poor cursive writing. The fading ornaments were often individually wrapped in antique newsprint. It had been years since anybody had heard of Amazon. Is it true that the website didn't exist? Ah, those were the days.
The White House is where it all happens. (CBSLA's Suzanne Marques)
Now, I just keep the lights on all year and put the tree up shortly before Thanksgiving. Don't worry, the lights are clear. The neighbors have not yet voiced their dissatisfaction. So when I got an email from CBS Chief White House Correspondent Ed O'Keefe asking whether the press secretary for First Lady Dr. Jill Biden wanted to conduct another interview with me, my heart just stopped beating.
Dr. Jill Biden was our former Second Lady when I first met her. She stopped by the CBS Broadcast Center in Studio City on her 2023 election campaign trip for a brief chat about her new children's book, "Joey," about President Joe Biden's youth.
For CBS2 News This Morning, she interviewed me and my co-anchor DeMarco Morgan. Her outfit consisted of a bright green blazer, a flowery dress, and high shoes. We were all ecstatic when she showed up. I recall telling her how proud I was of her for defusing a staged assassination attempt on our then-Vice President and Presidential candidate Joe Biden.
My family and I have always felt a particular connection to the Bidens since President Biden has been upfront about his stammer and loves children who stutter. A small girl spoke with the president about her stammer a few days ago. While President Biden stutters now and then, my father had a persistent stammer. I'll confess that as a kid, he didn't have a lot of help. Perhaps if he had nuns assisting him in singing words as the president did, he would have been able to conquer it more easily. By the way, I like that tale.
The White House is where it all happens. (CBSLA's Suzanne Marques)
Those like making fun of people who stutter, since it implies a lack of intellect. My father's lifelong stammer didn't hold him back in any way. He excelled at both arithmetic and storytelling. He raced cars and built two profitable enterprises from the ground up, but he couldn't get rid of his stutter. It was a part of who he was. My father would be in the midst of delivering a fantastic tale about boxing when he'd remark something like, "Fight." "That man truly wanted to ffff…ffff…. punch his lights out!" he'd remark. Then he'd giggle, as if he couldn't get the concept. He'd attempt to reel in a word like a fisherman, but they'd always get away from him.
So back to the present. I replied to FLOTUS' press secretary through email. I wasn't sure whether Dr. Biden would return to the studio or if it was something out of town. So I almost passed out when he mentioned the interview would take place in the White House. When I found out it was going to be a tour of the holiday decorations, I had to be sedated. It's a mash-up of all of my favorite things.
Can I tell you about a favorite book of mine? "Upstairs in the White House: My Life with the First Ladies" is the title of the book. I've read it many times. J. B. West, the White House's top usher, wrote it in 1972. He worked with six presidents and first ladies over the period of 28 years. He labored silently behind the scenes throughout our country's successes and disasters, ensuring that the first family's needs were met. Regardless of political party, the White House personnel remains loyal, since each family leaves an everlasting impact. I appreciated his glimpse behind the doors, particularly since he did it with decency and respect.
The White House is where it all happens. (CBSLA's Suzanne Marques)
West goes into great depth on First Lady Jackie Kennedy's White House refurbishment. When she was first lady, she founded the White House Historical Association, a private foundation that finances efforts to preserve and maintain the White House's grandeur and elegance. She commissioned valuable artwork for the walls and appointed the first White House curator to ensure that the furniture reflected the presidents' histories.
I faintly recall handing a copy of the book to CBS2 investigative reporter Kristine Lazar a few years ago. Kristine, I owe you a copy if I'm incorrect.
Let's return to the issue of presents. Remember last year when I described my son's "huge present"? On Christmas Eve, my husband Robert was putting the police vehicle together in the garage. Near the garbage cans, Austin saw a large box with a picture of the police cruiser on it.
"Santa gave me a police vehicle!" he said.
"His elves are so busy, he sent it to papa to complete!" I yelled.
I'll have completed the White House Holiday Tour by the time I check in. Good luck to me!
Suzanne Marques may be found on Twitter and Instagram.
Watch This Video-
Related Tags
suzanne marques husband
robert dourisboure
danielle gersh