The event will be a festive and special day with visits from Santa Claus, hot drinks, hayrides and much more. It is free to attend for the entire community.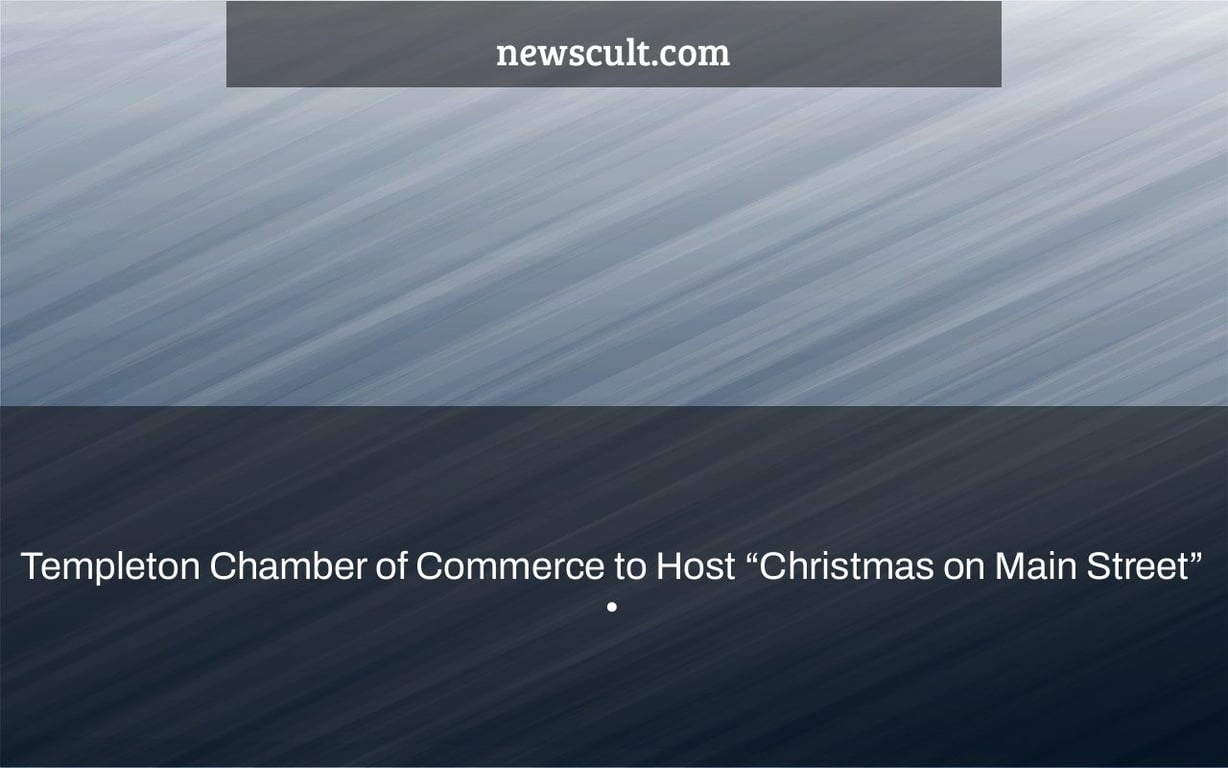 The first event will take place on December 18 from 4 to 7 p.m.
TEMPLETON — The Templeton Chamber of Commerce Board of Directors and volunteers are arranging a community event on Saturday, Dec. 18, from 4 to 7 p.m., to bring locals and tourists together on picturesque Main Street to celebrate the holidays.
The event is free and open to the public, and will begin at the American Legion Hall on the south end of Main Street at 8th Street, where children can meet Santa, parents can shop at the craft fair (over 30 local vendors have already signed up, making it ideal for last-minute gifts), and families can enjoy the Templeton 4-H petting zoo.
At Main and 6th, the Templeton Recreation Department will be providing a variety of children's activities, and farther down the street, watch the winter production of the Templeton Players.
We're going to get through this together, Atascadero
Main Street Dance is located on the corner of Main and 2nd Streets, close to their studio.
Gather the family and take a trip along historic Main Street, where local stores and restaurants will be decked up in lights and Christmas décor, offering special delights and welcoming the public. Up and down the street, there are surprises in store! Find a "scavenger hunt" map at the Chamber office at 321 Main Street and locate all of the trees to win a special Santa treat!
Nine fantastic local companies have chosen nine local residents.
non-profits "adopted" a Christmas tree, which will be lavishly adorned by the adopting company and auctioned off to benefit the non-profit. The gorgeous real Christmas trees were generously donated by Home Depot and Armet's Landscaping. One week before to the event, the auction will go live online and end that night. Starting Dec. 11, potential bidders may examine the trees, register at templetonchamber.com or on their Facebook page, and then put bids. The auction will finish that evening to allow for last-minute bidding during the event, and all trees will be on display along Main Street at local shops. Winning bidders will get the complete tree, including all decorations and presents, as well as 100% of the auction earnings to the non-profit organization.
Brandy Blackburn-Herndon took the photo.
The Templeton Presbyterian Church "Living Nativity" on Friday, December 17 and Saturday, December 18 (just after Christmas on Main Street) at 7 p.m., and then Sunday, December 19 at 5:45 p.m. and 7 p.m., on the church lawn at Main and 6th street, are other family-friendly events to enjoy in Templeton that weekend. Every evening from 6 to 9 p.m. until the holidays, no Christmas in Templeton is complete without a drive or stroll by the famed Blackburn Home, on the park at Old County Road and 5th Street, with its stunning decorations and lights.
The Templeton Chamber of Commerce welcomes the north county community and guests to "Christmas On Main Street," a family-friendly, fun, and free event on Dec. 18 from 4 to 7 p.m.
As an example:
As if Loading…
Related
Watch This Video-