The United States Men's National Team announced their roster for the 2018 FIFA World Cup and called in MLS players. The announcement was met with mixed feelings from those on both sides of the aisle, as some felt it would be a step backwards for US soccer to rely too heavily on domestic talent rather than finding international stars across Europe.
The "usmnt schedule" is a news article that discusses the USMNT's call up of players from MLS. The article discusses how the move could affect the future of Major League Soccer.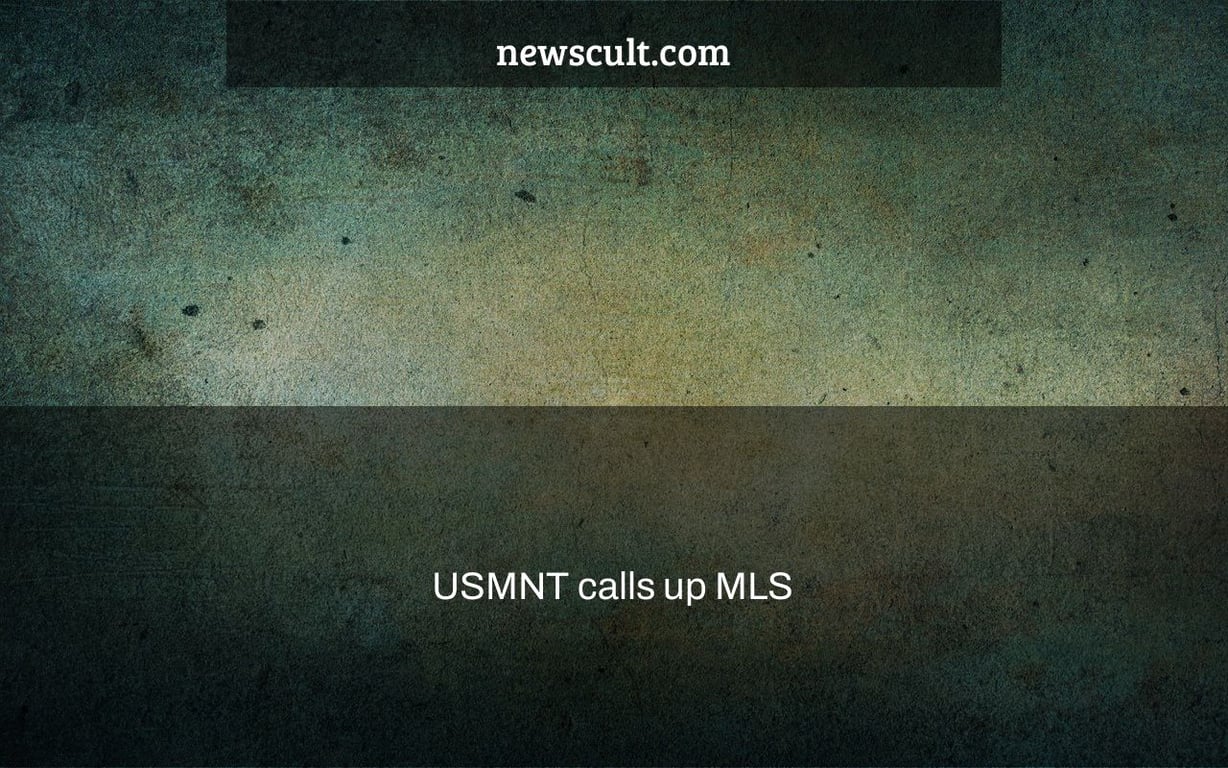 Gregg Berhalter, the manager of the United States men's national team, has announced a 26-man squad to a training camp ahead of a friendly against Bosnia and Herzegovina on December 18.
On December 5, players will report to camp in Carson, California. The camp is being hosted ahead of a trio of World Cup qualifiers that begin in late January, and it aims to keep MLS players in shape now that the summer has started for the majority of them.
– Watch ESPN FC Daily on ESPN+ (available in the United States only) – Don't have ESPN? Get immediate access
Because the match versus Bosnia is not part of a FIFA international calendar, players who are still in season will be mostly unavailable.
"It's critical that when we enter the pitch [for the next World Cup qualifier] on Jan. 27, we have people who are ready to compete at a World Cup qualifying level," Berhalter told reporters following the news. As a result, this camp is necessary.
"We recognize that the players have been playing all year and are exhausted, which is why the program will be somewhat different. But we have to keep them going ahead and looking forward to playing against Bosnia and Herzegovina on December 18."
Gregg Berhalter has called up 26 players, five of whom do not play in Major League Soccer. ISI Photos/Getty Images/Brad Smith
MLS Defender of the Year Walker Zimmerman of Nashville SC and MLS Goalkeeper of the Year Matt Turner of the New England Revolution are among the group's highlights.
Orlando City SC striker Daryl Dike and Atlanta United FC defender Miles Robinson are among the players who have been recently called up but will not be making the trip.
Berhalter had this to say about Dike: "He's been beaten up. He is in desperate need of rest. The most important thing for Darryl right now is to relax and heal so that he can concentrate on returning in January and rebuilding his strength."
There are also 12 uncapped players on the squad. Five of the 26 players called up are from outside of Major League Soccer, including two who participated in the USL Championship last season: Louisville City defender Jonathan Gomez and Orange County SC defender Kobi Henry.
Gomez is the latest dual national to be caught in the middle of a tug-of-war between the US and Mexican national teams, having previously represented both nations at the youth level. He has signed a contract with Real Sociedad in LaLiga, and will begin playing for them on January 1.
"It's critical to begin promoting young players to the senior squad and provide them with experience. He's also U-20 eligible with Jonathan. He wasn't at that camp, but since Jonathan is a person who will be traveling abroad in January, it's critical that we get a good look at him "Berhalter said.
Roma defender Bryan Reynolds, Internacional midfielder Johnny Cardoso, and Bayern Munich II striker Taylor Booth are the other non-MLS players.
Aaron Long, a defender with the New York Red Bulls, has been recalled after missing the most of the 2023 MLS season due to a damaged Achilles tendon.
After Nico Estevez officially took over the Dallas position on Thursday, Berhalter indicated he is close to signing ex-FC Dallas coach Luchi Gonzalez as an assistant.
GOALKEEPERS (3): John Pulskamp (Sporting KC; 0/0), Gabriel Slonina (Chicago Fire; 0/0), and Matt Turner (New England Revolution; 12/0).
DEFENDERS (11): George Bello (Atlanta United; 5/0), Justin Che (FC Dallas; 0/0), Jonathan Gomez (Louisville City; 0/0), Kobi Henry (Orange County SC; 0/0), Henry Kessler (New England Revolution; 1/0), Brooks Lennon (Atlanta United; 0/0), Aaron Long (New York Red Bulls; 21/3), Kevin Paredes (D.C.
MIDFIELDERS (5): Kellyn Acosta (Colorado Rapids; 44/2), Cole Bassett (Colorado Rapids; 0/0), Johnny Cardoso (Internacional/BRA; 2/0), Cristian Roldan (Seattle Sounders; 29/0), Jackson Yueill (San Jose Earthquakes; 15/0) Kellyn Acosta (Colorado Rapids; 44/2), Cole Bassett (Colorado Rapids
FORWARDS (7): Taylor Booth (Bayern Munich II/GER; 0/0), Caden Clark (New York Red Bulls; 0/0), Caden Cowell (San Jose Earthquakes; 0/0), Jess Ferreira (FC Dallas; 4/2), Jordan Morris (Seattle Sounders; 39/10), Ricardo Pepi (FC Dallas; 6/3), Gyasi Zardes (Columbus Crew; 65/14), Ricardo
Watch This Video-
Related Tags
pulisic
nba
american soccer